South-East Asia offers e-commerce retailers huge potential, thanks to its fast-growing e-commerce markets across the region.
Shoppers from Indonesia to the Philippines are increasingly buying cross-border, driving the region's online retail sector to grow faster than e-commerce markets in Brazil, India or even China.
When selling to a new South-East Asian audience, you want your shipments to reach customers quickly and easily to ensure a great first experience with your business. That means you'll need to get to grips with each country's unique customs regulations, import duties, paperwork and taxes.
The de minimis rule
The de minimis rule is different in every country in South-East Asia (and the currency is, too!). Working out and understanding the specific VAT requirements for your target country is key to unlocking the potential benefits of the de minimis rule, as you can avoid import costs for items valued at below a certain threshold.

For example, if the country you decide to start selling in has a de minimis value of $400, any product you import valued at below that won't cost you anything to import. That means you can set a lower price for the item - without losing profits - and attract more customers to the product.

Sound complicated? Download our VAT in South-East Asia infographic below to learn all about the de minimis rule and how it differs by country. The good news is, e-commerce retailers can choose to rely on logistics partners who can take the hassle out of shipping. The right partner will ensure paperwork is completed and submitted to the relevant authorities, duties are paid and any shipments sail through customs. Plus, they can help take care of items being returned, too.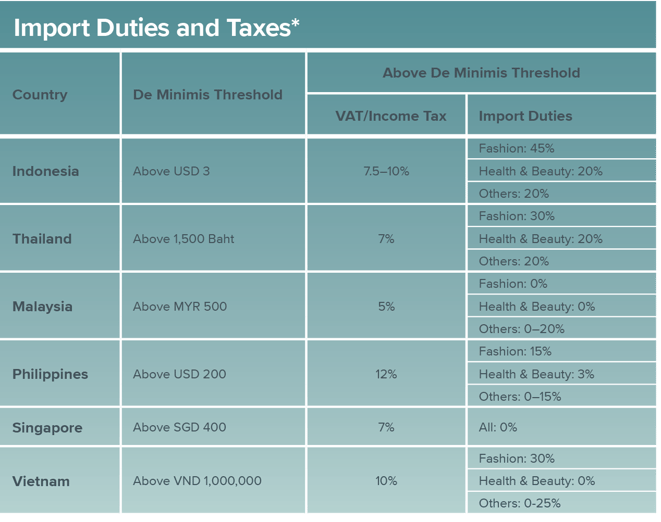 *Please note that this information is indicative and may change from time to time.
Make a success of South-East Asia
Asendia is a global logistics expert, with a worldwide network that uses local knowledge to ensure the best results for e-commerce retailers and their customers. We advise and facilitate the use of Delivery Duty Paid (DDP) services to shoppers, so there are no unexpected costs or hidden fees when buying online, giving them the best buyer experience.

Having an established pre-clearance process in place, or working with a shipping partner that does, can help avoid headaches at customs. You can also ensure items don't go missing - and give your customers regular updates as their parcel travels through the network - with real-time notifications and the ability to track any parcel from warehouse to last-mile.

Understanding regulations like this is just another reason why a logistics partner with local knowledge of the region can be a big help to any e-commerce retailer looking to grow in a new market. To find out more about growing your e-commerce business in South-East Asia, get in touch with Asendia today.